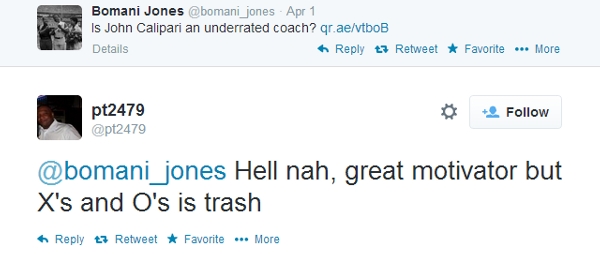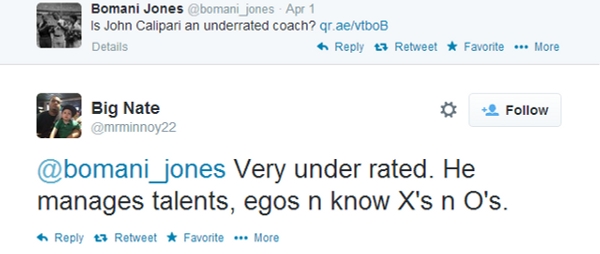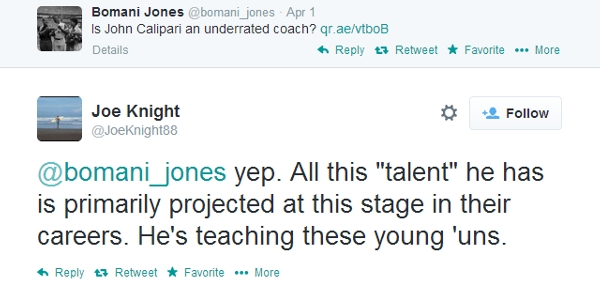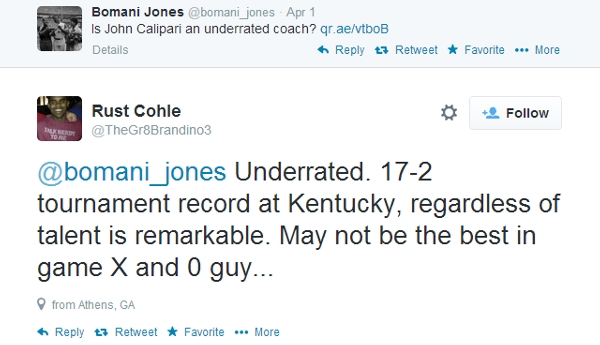 While there's a wide range of opinions on John Calipari's role in college basketball, opinions of his coaching acumen usually fall under "good recruiter, bad X's and O's". In a dichotomic college basketball world, coaches are either great recruiters and bad tacticians, or "coach up" their under recruited players to victory. We tend to recognize the latter as "real" coaching and grinding, and the former as taking shortcuts.
And that's how we got to asking whether a coach that's been to five Finals Fours with three separate teams, won one national title, and a 17-2 record in the postseason at Kentucky if he's underrated.
There's no doubting John Calipari impact on college basketball. He is the embodiment of social media/Twitter/Instagram, sneaker, selfie, swag culture in basketball coach form. What people think of Calipari is also a litmus test for how people view college sports. If athletes should be happy with a free education, then Calipari's "one and done" approach mocks the purity of the student athlete experience.
But if one views college sports as an interplay between shoe companies and recruiting services, then Calipari and Worldwide Wes comprise of the basketball Frank Underwood, sitting high above Rupp Arena, breaking the fourth wall as they conspire to stay ahead of rival coaches, and NCAA authorities. This Forbes article, titled "John Calipari Is Either the Best or Worst Thing to Happen to College Basketball" captures the duality. And this GQ profile, in which "the shoes companies, coaches, franchise owners, front office execs" all lead to Worldwide Wes, illustrates the underlying complexities of recruiting – a world which Calipari seemingly mastered, and which blurs perceptions of his coaching acumen.
The All-American Heel Turn
"When I was at UMass, we had one McDonald's All?American, Donte Bright. When I was at Memphis, we may have had three over my years there. We weren't getting top?50 players at UMass…At Memphis, I was coaching them three to four years."
So Calipari is either Neo fighting through the college sports Matrix, or nWo-version Hulk Hogan (this is the second nWo Hulk Hogan reference in a month – either we're running out of metaphors, or Hogan's heel turn was that deep). But it wasn't always this way.
Before Calipari's heel turn, and before John Feinstein wrote articles like "John Calipari Has Changed For the Worse", Calipari started out as the people's champion at UMass. As Feinstein points out in the same article, Calipari's time as UMass was "one of the greatest rebuilding jobs in the history of sports", taking a once 1-27 team to its first Final Four in 1996 (although, in a bit of foreshadowing, UMass vacated the achievement after Marcus Camby was found taking money from an agent during the run).
His subsequent head coaching run with the New Jersey Nets were Calipari's lost years, with a combined record was 72-112 over two and a half seasons. As we covered last week, all creation story start when our heroes and villains hit a low point, and I like to imagine that getting fired by the Nets was when Calipari takes the red pill given to him by Worldwide Morpheus
Sneaker companies played a major role in college basketball recruiting years before John Calipari took over Memphis in 2000. Take this article from the Seattle Times written in 1993 of players getting suspended from their high school seasons for attending a Nike basketball camp for starters. But Memphis is where John Calipari became Coach Cal, and where he turned those unwritten rules of AAU ball not only into a strength, but an ideology.
It was also in Memphis when Calipari installed the dribble drive motion offense, nicknamed the "Memphis Attack", an offense that took advantage of the superior playmaking ability of his recruits (and he is right – he "only" had four five star recruits during his time in Memphis according to Rivals – Tyreke Evans, Derrick Rose, Shawne Williams, and Darius Washington Jr.). But that's the conundrum of Calipari coaching argument –  is it a real offense if it only works with a certain level of athlete? Even when Calipari wins, he loses.
If Memphis was when he became Coach Cal, it was the 2009-2011 Kentucky recruiting classes that redefined a paradigm (you're on to something when people invent a phrase, in this case, "one and done", for your strategy). Consider the following freshman recruiting classes who left for the NBA after one season:
2009: John Wall, DeMarcus Cousins, Eric Bledsoe, Daniel Orton
2010: Brandon Knight, Enes Kanter (ruled ineligible)
2011 (won National Title, jumped the shark): Anthony Davis, Michael Kidd-Gilchrist, Marquis Teague
The ultimate irony of Calipari's "one and done" style was that he started out as a mid-major, "coaching up" type of coach. As Pat Forde writes, "Calipari's greatest strength as a coach is his ability to create teams that play together. His 1992 Massachusetts team remains one of the most overachieving units The Minutes has ever seen". And former UMass PG Derek Kellogg, on the subject of Calipari's preparation, says "we were never surprised in games…late in tight games we had so much confidence in anything he drew up because we'd been over that situation 100 times in practice".
Ultimately, it's not about if Calipari is a good coach. Not to the public, anyway. And maybe that's the point – that's Calipari's sleight of hand. So if John Calipari is a good coach, don't say it outloud. Amongst sneaker companies and McDonald's All Americans, that might be the real secret at Kentucky.